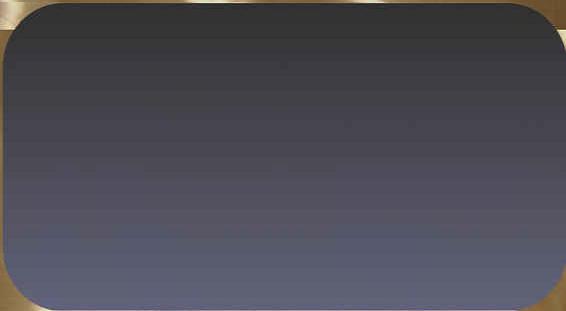 E60CNC Specs.

CAPACITIES:
Max Tool Diameter (Using a 6" diameter wheel): 1.00" 25.4 mm
Min Tool Diameter 0.010" 0.25 mm
Max Length of Grind: 4.0" 101.6 mm
Max Overall Length of Tool: 12.0" 304.8 mm

WHEELHEAD AXES:
X Slide 7.5" (190.4 mm), repeatability 0.0002"
Y Slide 7.5 (190.4 mm), repeatability 0.0002"
Z Slide 9.0" (228.6 mm), repeatability 0.0002"

TOOLHEAD AXES:
U Slide 5.0" (127 mm), repeatability 0.0002"
C Rotary 180º, resolution 0.003º
A Rotary (Work Spindle) free rotation, resolution 0.005º

FEEDRATES:
All Linear Axes 0-200 IPM
Rotary A Axis 500 RPM
Rotary C Axis 0-7 RPM

WHEELHEAD:
Wheel Spindle RPM 0-6000 RPM
Wheel Diameters 4"-6"
Spindle HP 5 HP (10 HP optional)

CONTROL:
Intel Pentium controlled 6-axis CNC controller.
Digital AC servos drive all linear axes and the "C" axis.
Excalibur Conversational tool programs, written in-house by Excalibur.
Optional programs available at no extra charge; Stepdrills,
Reamers, Routers, Tapered Mills.

OPTIONAL INTEGRATED AUTO-LOADER:
Fanuc Robotics LR Mate 100iB high-speed 5-axis robot
located outside the wet grind enclosure for easy tool access.
Optional Double pneumatic grippers (small series).

DIMENSIONS:
Weight 4400 lbs. 2.2 tons
Floor Area, Machine
Controls and Coolant 99" X 90" 2.5 m X 2.3 m

EXCALIBUR TRAINING:
40 hours of personalized training by our experts at our plant.
Option: Training at your plant.

WARRANTY:
1 year or 2000 hours on parts and labor. Service by Excalibur
or local agent.










E60CNC
The E60CNC is our largest grinder and can be fully automated with the optional FANUC robot that is gentle enough to handle double ended tools.

The E60 really shines in the manufacturing of solid twist drills. With it's solid support rest, runout can be held under 5 microns. The tool is fed through the stationary rest so support is maintained over the entire grinding process. This results in better finishes, point centrality, and wheel life.

End Mill production is equally impressive, as the E60 is capable of many different geometries. Ball end, square end, radial eccentric relief and corner radii can be ground on end mills having helical or straight flutes.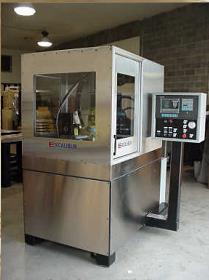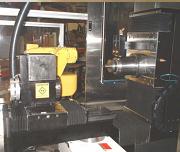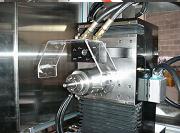 PO Box 255
Murphy, Oregon 97533

Phone: (541) 862-2939
Fax: (541) 862-2957
email: sales@excalibur-tool.com