 RoboGrind Specs.

CAPACITIES:
Max Tool Dia(Using a 6" diameter wheel): 1.00" 25.4 mm
Max Shank Dia(To Auto Load): 0.500" 12.7 mm
Min Tool Dia: 0.015" 0.0381 mm
Min Shank Dia(To Auto Load): 0.062" 0.157 mm
Max Length of Grind: 3.5" 88.9 mm
Max Overall Length of Tool(To Auto Load): 8.0" 203.2 mm

WHEELHEAD AXES:
X Slide 9.5" (241.3 mm), repeatability 0.0002"
Y Slide 9.5" (241.3 mm), repeatability 0.0002"
Z Slide 7.0" (177.8 mm), repeatability 0.0002"

TOOLHEAD AXES:
U Slide 4.0" (127 mm), repeatability 0.0002"
C Rotary 185º, resolution 0.003º
A Rotary (Work Spindle) free rotation, resolution 0.005º

FEEDRATES:
All Linear Axes 0-200 IPM
Rotary A Axis 500 RPM
Rotary C Axis 0-7 RPM

WHEELHEAD:
Wheel Spindle RPM 0-6000 RPM
Wheel Diameters 4"-6"
Spindle HP 5 HP (10 HP optional)

CONTROL:
Intel Pentium controlled 6-axis CNC controller.
Digital AC servos drive all linear axes and the "C" axis.
Excalibur Conversational tool programs, written in-house by Excalibur.
Optional programs available at no extra charge; Stepdrills,
Reamers, Routers, Tapered Mills.

INTEGRATED AUTO-LOADER:
Fanuc Robotics LR Mate 100iB high-speed 5-axis robot
located outside the wet grind enclosure for easy tool access.
Optional Double pneumatic grippers (small series).

DIMENSIONS:
Weight 4100 lbs. 2.05 tons
Floor Area, Machine 60" X 60" 1.5 m X 1.5 m

EXCALIBUR TRAINING:
40 hours of personalized training by our experts at our plant.
Option: Training at your plant.

WARRANTY:
1 year or 2000 hours on parts and labor. Service by Excalibur
or local agent.









RoboGrind
The ERG-6 RoboGrind is our top of the line grinder that comes standard with a FANUC robot that is gentle enough to handle double ended tools. The new ERG-6 RoboGrind achieves lights-out automatic tool production.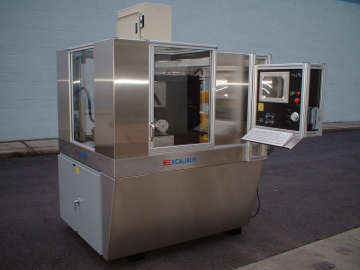 PO Box 255
Murphy, Oregon 97533

Phone: (541) 862-2939
Fax: (541) 862-2957
email: sales@excalibur-tool.com